Section Branding
Header Content
Immigration Law Hurts Restaurants, Farms
Primary Content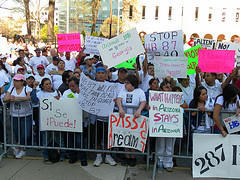 Business leaders told state Democrats at a hearing Tuesday that the state's immigration law is still harming Georgia's farms and companies.
Under the law, many firms have to use the federal E-Verify immigration check system to screen workers.
Ryan Barnes studied the law as part of a senior project at Emory University's business school. He says it's creating economic conditions that will favor large farms over small ones.
"Family farms will get bought out," he said following his testimony. In business, you call it consolidation where you'll buy family farms out in order to create a single enterprise of sufficient scale that's better positioned to thrive in the new environment."
Farmers have said the law scared away migrant workers during the spring harvest.
Restaurant owners are reporting a similar exodus.
Karen Bremer heads the Georgia Restaurant Association. In a poll she conducted last month, she said she found three-quarters of restaurants surveyed are reporting labor shortages.
"Despite persistently high unemployment rates in Georgia, over half the respondents are afraid that fewer workers will apply for future jobs and 22 percent say they have already noticed a decline in job applicants," she told a panel of Democratic state Senators who convened the hearing.
It was the second such panel they organized. At the previous hearing, Bremer said some restaurants were avoiding hiring workers with certain ethnic surnames.
A federal judge has blocked two of the law's provisions, including one allowing the police to check the immigration status of some suspects. But other provisions, include the one mandating E-Verify, went into effect on July 1.
State Republicans who authored the law say illegal immigrants are breaking the law. And they say they're taking jobs from American-born workers and also using government services paid for by taxpayers.
Republican leaders have also said there will logically be a period of adjustment to the new law as businesses get up to speed on the new mandates.
Georgia is one of several states that have passed strict immigration control bills.
Democrats at the hearing asked the panelists about repealing Georgia's immigration law. But Democrats are in the minority in both houses of the state legislature and hold no statewide offices so repeal is unlikely.
Tags: immigration, immigration law, HB 87, bonner, Charles Hall, Karen Bremer
Bottom Content