Section Branding
Header Content
Port Road Eyed for Toll Project
Primary Content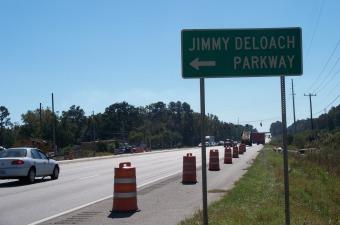 A long-delayed highway project to serve the Port of Savannah could be among the first toll roads built under a new state law aimed at adding private dollars to the state's transportation funding mix.
But it's still a very distant "could be."
State lawmakers wrote a law in 2003 aimed at urging private funders to come forward to help complete road projects. But the program hasn't yielded many results, leading lawmakers to re-write the law this year.
Lawmakers again will have to tweak the law in next year's legislative session. It was in this context that Georgia Department of Transportation (GDOT) officials told lawmakers this week how and where the private funding mechanism, called P3, could work.
"There are many corridors that could be good candidates for P3 funding," says Crystal Paulk-Buchanan, a GDOT spokeswoman. "The Jimmy DeLoach Parkway is one of them because of the need to increase mobility in the area and the economic impact of the port."
Ports officials and area lawmakers have sought funding for the project for years. When complete, Jimmy DeLoach Parkway will connect Interstate 95 with the Port of Savannah, providing a direct access route for truckers and taking big-rigs off area commuter roads. About three miles of road are unfinished and the funding has never come.
State transportation officials caution residents not to expect tolls any time soon. The project also is on a list of possible projects to be funded by the federal stimulus, and of course, the state legislature also could provide funds to complete Jimmy Deloach Parkway.
"P3 is only a funding option and whether that will be the option for the Jimmy DeLoach Parkway hasn't been determined," says Buchanan. "That's a very premature question at this stage."
Tags: ports, transportation, Department of Transportation, House Transportation Committee, Savannah, roads, Georgia Ports Authority, P3, Public Private Partnerships Program, Jimmy DeLoach Parkway
Bottom Content