Section Branding
Header Content
Live Chat Downton Abbey Season 6 Episode 8 At 9pm
Primary Content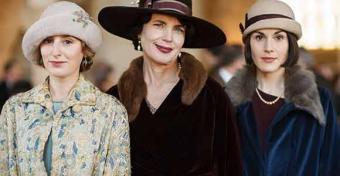 Can you believe this is the last regular episode of Downton Abbey before the season and show finale on March 6? That's why you'll definitely need to join our live chat for Downton Abbey season 6 Episode 8, Sunday February 21 at 9 p.m. Scroll down and join the live chat below.
There is so much to discuss before we see how it all ends. (Spoiler alerts ahead!) Will Lady Mary change her mind and give Henry Talbot a chance? Will Thomas catch a break and get a new job fitting his level of experience? Will Bertie still want to marry Lady Edith after finding out Marigold's true identity?
What about Lady Violet? She slipped away for the Mediterranean leaving behind a note and a puppy for family. Will we see her again?
You can't watch Downton Abbey alone given all of these hair pulling plot lines left up in the air. Think of it as group therapy too. We have been meeting and live chatting the show for four years now. There is always room for one more to the tight knit group. Hope to see you there.
Live Blog Live Chat Downton Abbey Season 6 Episode 8
Secondary Content
Bottom Content