Section Branding
Header Content
Hidden History: Savannah's 'Antiques Roadshow' Appraiser Amanda Everard
Primary Content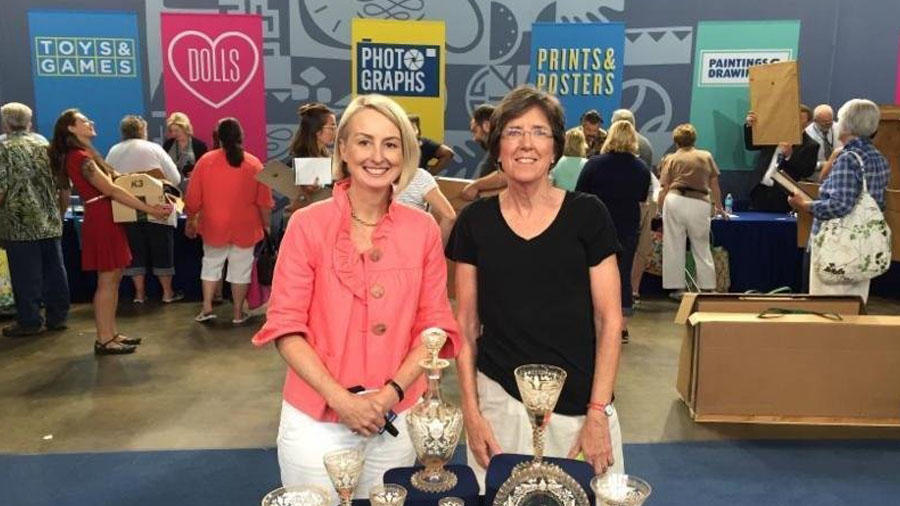 Antiques Roadshow audiences know Amanda Everard as one of the show's on-camera appraisers. When she's not on tv, Georgia's only Roadshow regular and her husband run Everard Auctions, based in Savannah. Her career began with her first job at Sotheby's in New York.
"Being in the estates department I got to see everything from furniture and silver to impressionist paintings that I'd just studied about in college," she said. "I was really the coordinator between the family members who were selling the things and the auction house."
A visit to Jacksonville, Florida, to have lunch with former Sotheby's colleague Lark Mason, an original appraiser for Roadshow, led to her first appearance on the show.
"The producers came in and Lark introduced me and one of them said to me 'by any chance do you do glass?' And I said, 'Yeah, I do glass. In my business I do estates so I do a little bit of everything.' Apparently someone was sick for the show, so it was really one of those kismet things where right place, right time."
Everard said her work has taught her the importance of provenance. "You can tell your kids a million times that great grandma Bessie gave this and it was passed down through the generations but it's going to get lost, they forget," she said. "'Oh what did she say again?' So it's always best just to take an envelope and put it on the back of a painting or in a chest of drawers. If you have a receipt from where you purchased it, that's a really great way to do it too. The history of ownership is so important because objects can't talk. You always wish they could talk because the stories that they tell, the places that they've been…"
Hear more of our conversation with Amanda Everard of Antiques Roadshow in the link below.
Secondary Content
Bottom Content