Section Branding
Header Content
Improved Photographs & the art of William Wegman at Telfair Museums
Primary Content
Jepson Center for the Arts is putting a new spin on the dog days of summer, in an exhibit of work by American artist William Wegman that opened last night. Rachel Reese, associate curator of modern and contemporary art for Telfair Museums, says Wegman's work goes far beyond his famous images of dogs dressed as children's book characters.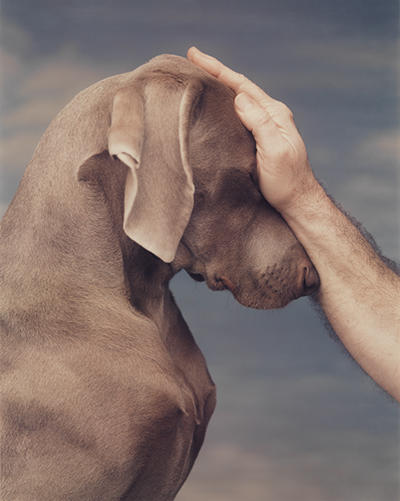 "He's been making work for almost five decades now," she said. "What we're hoping to do is present a selection of all of the work he's been making throughout his career which include his beloved weimaraners, paintings, drawings and photographs that he's been making since the 70's as well."
"He's become beloved in everyone's home through his images of his cast of weimaraners that started with his first dog, Man Ray in 1970," Reese explained. "But what we hope this exhibition will do is kind of link his interest in working with his dogs to his interest in working with other found objects, domestic items, vintage postcards that he's incorporated into his paintings for the past twenty years, so you can gain a larger understanding of who he is as a visual artist. "
The exhibit's title was taken from a series of his work created in 1979: William Wegman: Improved Photographs. "And I think that portfolio really kind of shows you the core of this exhibition which is that he loves to recycle his own imagery into new imagined narratives or scenarios," Reese added. "And that portfolio started with photographs he was taking in New York in the late 70's that he considered bad photographs."
Photographs with bad exposure or composition were incorporated into later work where Wegman drew on top of them. "And that's how he developed what he called 'altered photographs'," she explained.
William Wegman: Improved Photographs continues through August 13, 2017, at the Jepson Center for the Arts. Hear more of our conversation with Rachel Reese in the audio link below. Learn more about this exhibit and see some work from the exhibit at Telfair.org/wegman.
GPB's Celeste Headlee interviewed Wegman last week for On Second Thought. Click here to hear that conversation.
Secondary Content
Bottom Content