Section Branding
Header Content
Beneath the Waves: Take A Virtual Field Trip to Gray's Reef
Primary Content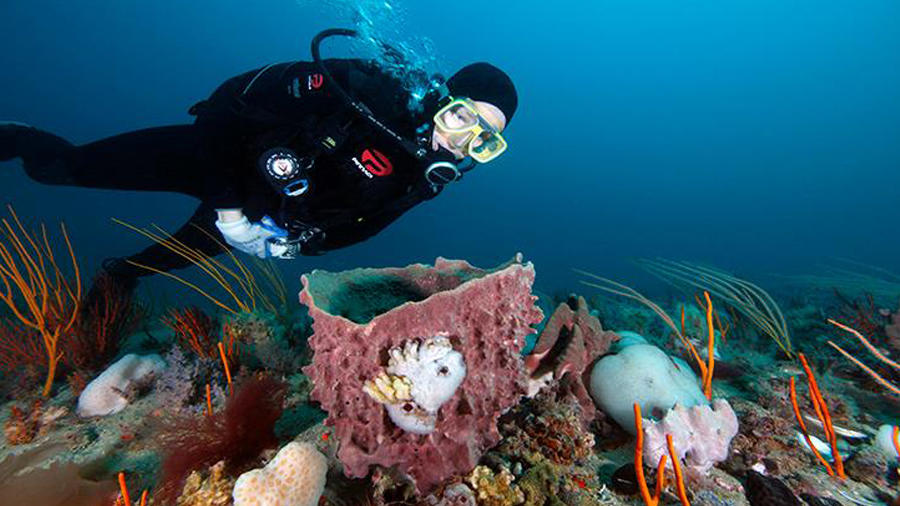 Gray's Reef National Marine Sanctuary sits off the coast of Georgia, sixteen miles east of Sapelo Island in the Atlantic Ocean. In other words, if you want to visit you'll need a boat. But on Wednesday, May 10, you can take a Virtual Field Trip to Gray's Reef without leaving home – or getting wet.  GPB Education will live stream the virtual field trip to classrooms, homes and computers around the world at 10 a.m.
"It's something special that we have a nationally designated place that was protected because it has a high concentration of incredible marine life and a lot of diversity," said Sarah Fangman, superintendent of Gray's Reef and someone you'll meet on the virtual field trip. "It's a 22 square mile place. It is about 65 feet deep, so it's perfect for scuba divers. Recreational fishermen like to go there because they can catch king mackerel, black sea bass and Grouper. It really is magical."
"The reef is basically a concentrator of life," Fangman explained. "There are emerging rock so it's covered with marine life – little organisms, which then create hiding places for little fish, which then attract the bigger fish and the big fish up to – we've got white sharks in Gray's Reef and we've got the north Atlantic Right Whale which is one of the most endangered species. Its job is to concentrate and create all of this life."
"So when you're standing on the beach at Tybee and you look out at the ocean, what I want people to understand is how much there is beneath the waves," she said. "There's so much living out there that they have to let their imaginations go wild. There are whales, there are dolphins, there are turtles, but there's also teeny tiny little nudibranchs, which are little worms which can be most beautiful. There are crabs, there's shrimp. I hope people think about that when they look out at the waves."
Join Gray's Reef National Marine Sanctuary, GPB Education and tens of thousands of students around the world for our Virtual Field Trip to Gray's Reef tomorrow morning at 10 a.m. Click here to learn more and for the live stream of the event. 
Learn more about Gray's Reef National Marine Sanctuary at graysreef.noaa.gov.
Secondary Content
Bottom Content